eCommerce business blog allows you to sell your products online and increase your profit with an online business. The explosive rise of ecommerce in recent few years is responsible for significant sales to online businesses and changing the retail market. It is predicted that in 2040, 95% of all purchases will become online, and in 2023, the e-commerce industry will grow more quickly. Growing an ecommerce business is challenging nowadays, especially if you have a low budget. In today's digital age, ecommerce business has become an important part of the international marketplace. With the ever-increasing popularity of online shopping, establishing and growing a successful ecommerce business blog has become a demanding concern for people. In this article, we'll discuss the best ways to improve your ecommerce business blog to boost your business.
Ways to Improve Your eCommerce Business Blog
There are various easy ways to improve your eCommerce business blog, such as:
Specify Your Objective Clearly
A clear objective gives us a roadmap to follow. Before starting your ecommerce business blog, it is essential to set a clear goal to clarify the purpose of your ecommerce blog, whether it is only for driving sales, building brand awareness, providing valuable or useful information, engaging with customers, or increasing customer retention. First of all, you have to decide what you want from your business and then follow a strategy according to your business goal to improve your ecommerce business blog.
Mobile Optimization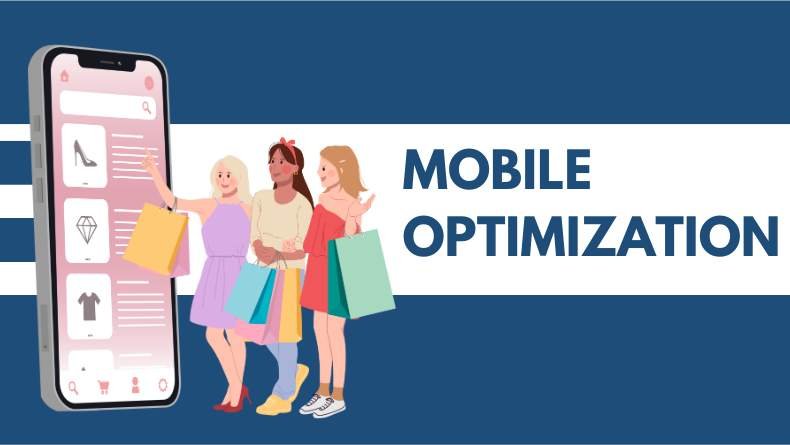 As you know, 59 percent of ecommerce sales are happening on mobile devices. Must make your blog mobile-friendly and easily accessible. Because mobile usage is very high, so make sure your blog is convenient, and your website is responsive, enabling a smooth browsing experience across various devices.
Read Also: 10 Pro Tips for Successful Mobile Commerce
SEO Optimization
When it comes to bringing organic traffic to your ecommerce website's blog, SEO optimization is essential. SEO is the basic strategy to increase your visibility so that people can approach you easily due to your high-ranking on-search engine. Add meta description is also a way to take your content to a high ranking because it is the general summary of your page content, and it will increase the exposure of your website in search engine ranking by attracting more potential clients.
Collect Reviews and Feedback
Encourage customers to leave honest and positive reviews on your blog and other social media sites. Positive evaluations help your company to gain credibility and trust and affect user decisions. Monetize these reviews and recommendations on a daily basis. One of the benefits of review is 91% of consumers must read at least one review before purchase. Respond on time and thoughtfully to comments on your blog posts it will help to encourage further discussion.
Identify Target Audience
Conduct market research to identify your target audience's demographics, interests, and preferences. Determine and communicate the unique value your ecommerce business offers compared to competitors. Consider leveraging the power of global ecommerce by expanding your business to international markets. Research target regions, localize content, and adapt to local preferences.
Incorporate Social Sharing and Collaboration
Encourage your visitors to share your blog pieces on social networking sites so you may increase your audience and get more organic traffic. Create a strong online presence on social media sites where your target audience is present. Inspiring readers to perform particular activities, like following your page, sharing your material, or making a purchase, will also be helpful.
Develop Quality Content and Utilize Visuals
Produce well-researched, educational, and interesting material that speaks to the problems your audience has and offers answers. Improve your blog with elite pictures, information graphics, and videos to boost reader engagement and efficiently explain information. To produce captivating and accurate photographs, spend money on expert product photography. High-quality images may greatly impact consumer choices and enhance user experience. Invest in professional product photography to capture eye-catching and accurate images. High-resolution visuals can significantly influence buying decisions and improve user experience.
Incorporate SEO Keywords
Optimize your blog posts with relevant keywords, meta tags, and descriptive URLs to improve search engine rankings. Influence analytics tools to track and analyze various metrics, including customer behavior, conversion rates, and popular products. Utilize this valuable data to make informed decisions and improve your ecommerce strategies. Encourage people to share your blog content on social networking sites so you may reach a wider audience.Produce well-researched, educational, and interesting material that speaks to the problems your audience has and offers answers.
Consistent Branding and Interactive Elements
Maintain consistent branding across your blog and website, utilizing the same colors, fonts, and style to emphasize brand identity. Incorporate interactive elements such as quizzes, polls, or surveys to encourage user interaction and gather valuable feedback. It will help to increase the timing of user stay on your website which boosts engagement and enhances the user experience as a whole.
Monitor Analytics
Regularly monitor blog analytics to identify popular topics, user behavior, and areas for improvement. Offer real-time customer support through live chat. Promptly address any concerns, doubts, or questions potential buyers might have while browsing your website. Include relevant internal links within your blog posts to guide readers to relevant content on your website, improving usability and boosting SEO.
User-Friendly Blog Design
Ensure your blog is visually appealing and easy to navigate to increase your sales. Make sure your website is responsive on different devices to provide an ideal user experience. Ensure your ecommerce website is spontaneous on mobile too, and offers a seamless shopping experience to your customers. Optimize layout, enhance page load speed, and make product search filters easily accessible.
Quick Summary
A comprehensive understanding of e-commerce concepts, audience preferences, and efficient content methods is necessary to improve your ecommerce business blog. You can raise engagement, traffic, and, ultimately, the success of your e-commerce firm by putting these tactics into practice. To stay ahead in the quickly changing ecommerce world, keep in mind to routinely examine data, stay current with industry trends, and modify your approach as necessary. The process of improving your e-commerce firm demands constant adaptation and development. You can implement these methods or strategies to enhance your customer retention and increase your organic traffic.