The significance of emotional intelligence (EQ) is growing in the ever-changing realm of business, where interpersonal relationships and effective communication are of the highest priority. Here we explore the significance of emotional intelligence within the workplace context. It will examine its relevance, its impact on driving organizational progress, strategies for cultivating emotional intelligence within teams, and the numerous advantageous outcomes associated with its development. Furthermore, this discourse will explore multiple ways in which emotional intelligence proves achievement alongside practical measures that might be undertaken to cultivate one's own emotional intelligence.
What is Emotional Intelligence in Business?
Emotional intelligence, often known as EQ, refers to the cognitive ability to recognize, categorize, understand, and regulate both personal and interpersonal emotional experiences within professional environments. This entails enhancing one's communication abilities, cultivating more robust interpersonal connections, and making better-informed choices within the professional setting as a consequence of the acquired information. The small business cooperates with teams and clients effectively with EQ.
Why is Emotional Intelligence Important in Business Development?
The ability to communicate effectively is the backbone of any successful organization, and EQ greatly improves this aspect of operation. Communication abilities improved by emotional intelligence help people connect with clients, coworkers, and other stakeholders, leading to more effective collaborations.
It helps professionals deal effectively with the inevitable conflicts that happen in the fast-paced corporate world. Those with a high EQ can work with others to create win-win solutions to problems, which benefits the group as a whole and ensures its continued success.
Additionally, EI is a driver of team development. Leaders with high EQ may unite and inspire their followers by catering to their diverse personalities and understanding their unique strengths and weaknesses. This, in turn, promotes better teamwork and increased output.
How to Build Team Emotional Intelligence?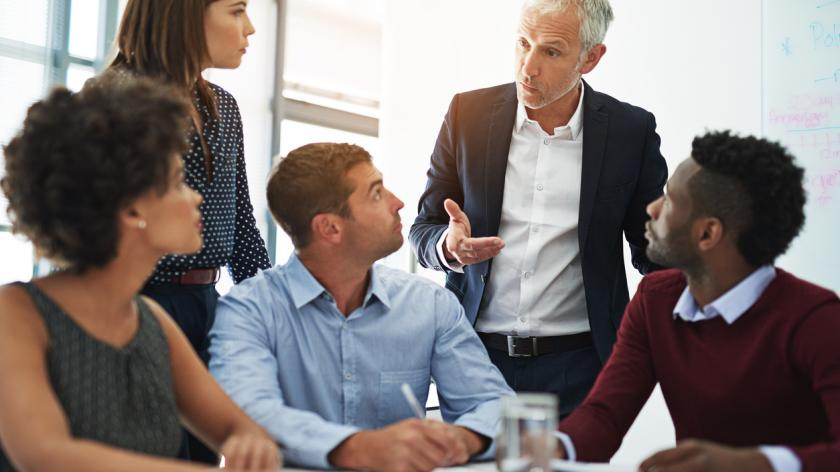 Increasing a group's EQ can't be accomplished with a single strategy but rather must make use of a variety of methods.
Lead by Example:
Set an example for followers by acting in a way that demonstrates emotional intelligence in your interactions as a leader.
Training and Workshops:
Investing in EQ training and workshops for employees can help them recognize and manage their emotions effectively.
Open Communication:
Encouraging open dialogue and feedback within the team creates a safe space for emotional expression, fostering a culture of empathy and understanding.
Conflict Resolution Training:
Providing resources for conflict resolution training equips team members with the tools needed to navigate disputes amicably and constructively.
Emphasize Empathy:
Cultivating empathy within the team involves encouraging members to put themselves in others' shoes, and consider their feelings and perspectives.
Recognize and Reward EQ:
Acknowledging and rewarding instance within the team serves to reinforce its importance and encourage further development.
Mentoring:
Pairing up employees for mentoring relationships allows experienced individuals to guide others in the journey to developing their EQ.
7 Aspects You Can Improve with Emotional Intelligence in Business
Self-awareness: 
Emotional intelligence helps people recognize their talents, weaknesses, and emotional triggers. Getting to know oneself helps one make better decisions and grow.
Self-regulation:
High EQ people can control their emotions and stay calm under pressure, making them more effective at work.
Motivation: 
Emotional intelligence drives intrinsic motivation, allowing people to develop and pursue goals despite obstacles.
Empathy: 
Understanding the emotions and perspectives of others is pivotal to building robust relationships, both within the team and with clients, leading to more harmonious and successful collaborations.
Social Skills: 
High EQ professionals excel in networking, building rapport, and maintaining long-lasting business relationships, factors that are instrumental in the success of any venture.
Conflict Resolution: 
Emotional intelligence facilitates the resolution of conflicts through constructive dialogue and compromise, preserving relationships and ensuring that conflicts do not hinder progress.
Decision-making: 
EQ enhances decision-making by incorporating emotional factors alongside rational data, resulting in more balanced and thoughtful choices that take into account the human aspect of decision-making.
Why is Emotional Intelligence Important for Success?
Success in the business world transcends mere profit generation; it hinges on sustained growth and the cultivation of positive relationships. Emotional intelligence plays a pivotal role in this equation:
1. Effective Leadership: Leaders with high EQ inspire and motivate their teams, leading to increased productivity and innovation, which are integral components of long-term success.
2. Customer Satisfaction: Emotional intelligence enhances client relationships, resulting in satisfied and loyal customers who are more inclined to recommend your business to others.
3. Innovation: Emotionally intelligent teams are more open to creative thinking and collaboration, leading to innovative solutions that provide a competitive edge in the market.
4. Adaptability: EQ equips individuals and organizations with the flexibility to adapt to evolving market conditions and the resilience to rebound from setbacks.
5. Conflict Resolution: Efficient conflict resolution prevents the escalation of issues, maintains a harmonious work environment, and ensures that disputes do not hinder progress.
6. Ethical Decision-making: Emotional intelligence empowers professionals to make ethical choices that protect the company's reputation and foster trust, which are vital for long-term success.
Tips To Work On Your Emotional Intelligence
1. Practice Self-awareness: Regularly reflect on your emotions, triggers, and behaviors. Maintaining a journal can be a useful tool to track your emotional responses over time.
2. Develop Self-regulation: Practice self-control by being familiar with stress-reduction strategies, including yoga, meditation, and deep breathing. These techniques can help you keep your cool under pressure.
3. Build Empathy: By engaging in active listening and questioning in your daily encounters. Try to put yourself in other people's shoes and absorb their experiences and viewpoints.
4. Improve Social Skills: Hone your communication, networking, and relationship-building skills. Consider attending workshops or seeking mentorship to enhance these abilities.
5. Seek Feedback: Ask for feedback from colleagues, friends, or mentors to gain insights into your emotional intelligence strengths and areas for improvement.
6. Handle Conflict Constructively: Approach conflicts with a mindset of resolution rather than confrontation. Focus on finding common ground and mutually beneficial solutions.
7. Set Goals: Define specific goals for enhancing your EQ and track your progress over time, making adjustments as needed to continue your growth in this area.
Conclusion
Emotional intelligence is not a soft skill but an indispensable asset in the business world. It serves as the linchpin for effective communication, team dynamics, conflict resolution, and client relationships. By nurturing EQ within your team and dedicating efforts to its development in yourself, you can unlock a multitude of benefits, including enhanced leadership, client satisfaction, innovation, and ethical decision-making. On the path to success, remember that emotional intelligence is the glue that binds it all together. Forming the bedrock for enduring business relationships and sustainable growth.